We are excited to announce that we are now offering a new wireless outdoor camera: the ADC-V723. This is a direct upgrade to our previous model, the ADC-V722.
One of the things that make this camera stand out from the previous model is a much larger angle of view, at 117°.
This means that a single camera can cover a lot more of your property.
Specifications
Our newest outdoor video camera is also equipped with high dynamic range (HDR) processing, wireless connection via Wi-Fi, and is both waterproof and dust-tight. Check out some more of its specifications below:
Requirements
If you are interested in purchasing one of Liberty's outdoor ADC-V723 cameras, you will need the following:
Fiber, cable/broadband, or

DSL

internet
Separate SSIDs for 2.4GHz and 5GHz bands if your router is a dual band router
At least 1 Mbps of dedicated upload speed per camera you would like to install
Please note that if your household members are heavy internet users, it is best to have closer to 1.5 Mbps of dedicated upload speed per camera instead of 1 Mbps. The frame rate of live video will be as fast as the network permits, so more upload speed is always better. Live video has an upper limit of 10 frames per second (FPS), and for saved videos, the frame rate averages at 3 FPS.
The ADC-V723 must be plugged into a power outlet, but connects wirelessly via your WiFi network. As the ADC-V723 is a partially wireless option, pricing is a lot lower than our fully wired cameras, which are much more labour intensive to run (albeit more reliable as they won't be affected by power outages.
Video Analytics
Liberty's outdoor cameras come with a video analytics service that you can customize for your household's specific needs. Video analytics monitors your video stream to determine if an important event is occurring, such as someone coming up to your door, or a vehicle lingering outside your home instead of driving past. Video alerts can then be filtered and categorized into groups like people, animals, or vehicles. You can also create a virtual zone or tripwire for your cameras that will trigger a video clip or alert. At this time, this service is only available for outdoor cameras and not doorbell cameras. (Want to learn more about our video doorbell cameras? Click here to read our blog article that goes over their features and requirements.)
Why get a security camera?
When it comes to deterring would-be thieves, visible smart home security cameras immediately indicate that your house will not be an easy target. In fact, burglars often specifically look for homes that do not have security systems. For those that choose to enter a property regardless of a home security system, surveillance cameras can assist in identifying (and catching) criminals. Video cameras can also help you to know what is going on in and around your property. If you are a business owner, this is especially helpful for monitoring customers and employees.
DIY battery powered cameras are another option, but we don't usually recommend them to our customers. Although they are completely wireless, their reliability suffers as a result. Cold temperatures can cause them to malfunction, and they cannot record 24/7 because of their limited battery life.
Stream Video Recording (
SVR

)

Stream video recorders are also available for purchase from Liberty, and work in tandem with your outdoor and indoor video cameras. With an SVR, your camera will record continuously instead of recording clips based on when a specific event is triggered. Continuous recording means that you can go back in the timeline to a specific point in time, and download a video clip of a length of your choice. It also makes it easier to manage, as there is no clip limit, and thus no need to adjust your camera's sensitivity (and potentially miss capturing something valuable). This makes it easy to obtain a video clip for the authorities should someone damage your property or break into your home.
How does the
ADC

-V723 compare to its predecessor, the

ADC

-V722?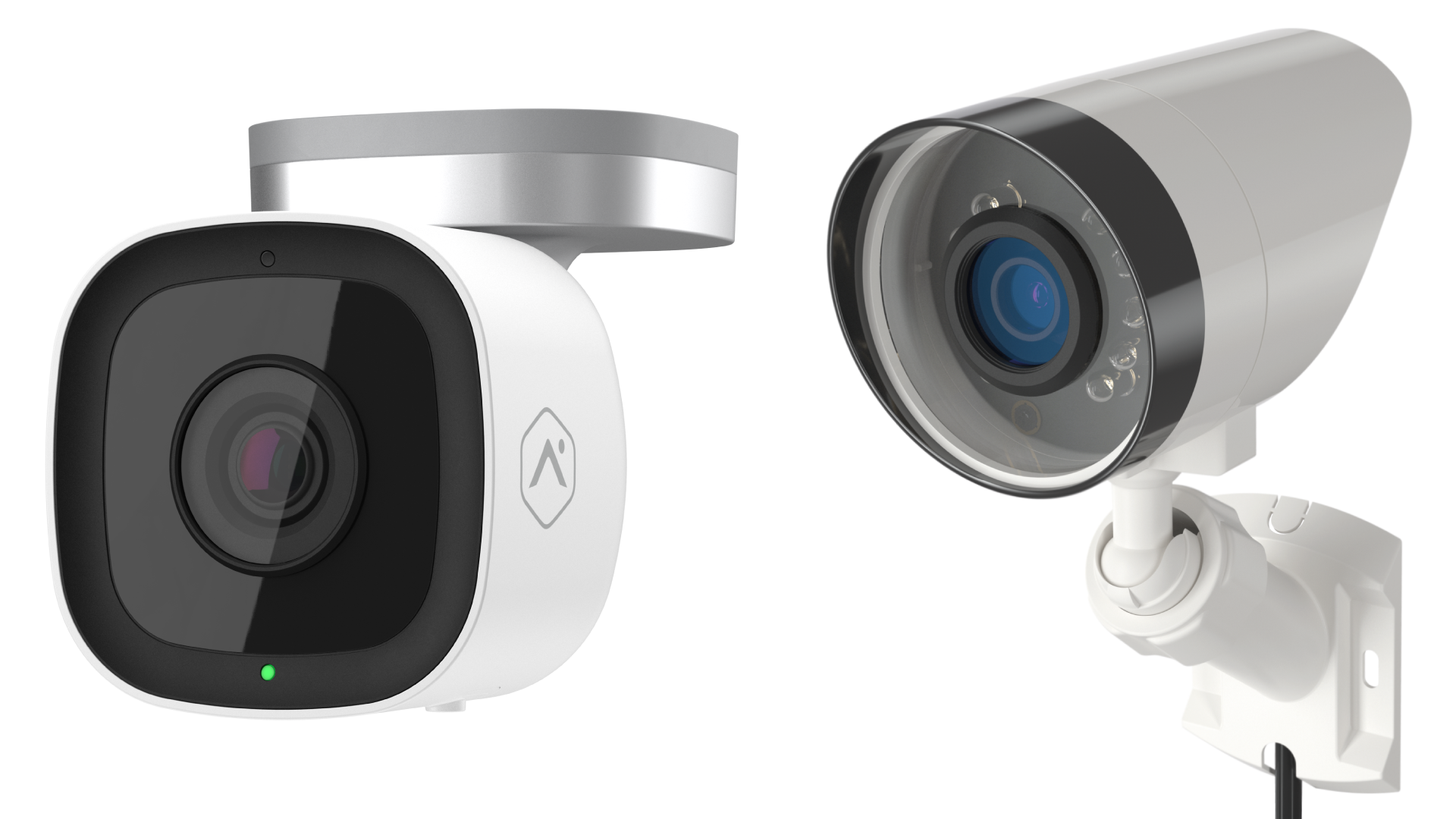 (Left: our newest camera, the ADC-V723; Right: the previous model, the ADC-V722 outdoor camera)
Got one of our older models and unsure of whether or not an upgrade is right for you? Take a look at our comparison of the two cameras below: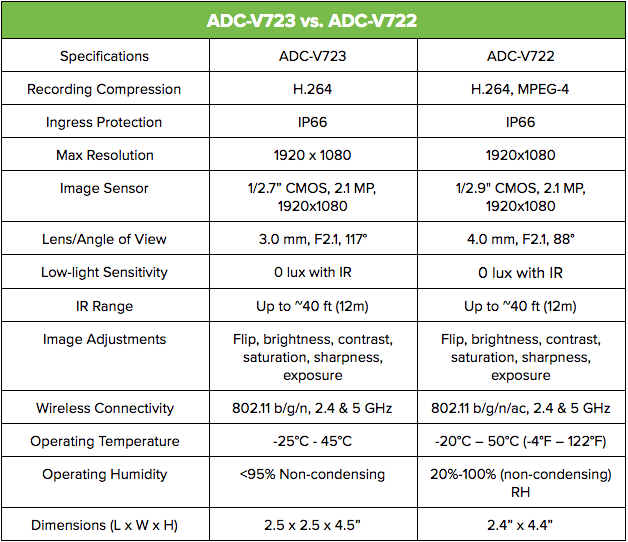 We found the angle of view to be the biggest difference between the two cameras: 88° for the ADC-V722 and 117° for the newer ADC-V723. Not sure what else to consider before making a security camera purchase? Check out our blog: seven questions to ask before buying security cameras. And, if you're interested in learning more about our different video camera offerings, please contact us at 1-866-926-7233, or fill out one of our "Contact Us" forms here.
Written by Candice Mendoza