Summer is just around the corner, and with it, some much needed vacation time. Being away from home can bring anxiety regarding property protection, and video doorbells are a great option for homeowners looking for an added layer of protection.
Video doorbell cameras have plenty of great features:
You can do a live check-in at any time through a remote viewing app. Considering the recent news headlines about packages being stolen from front doors last December, this live check-in feature is especially helpful as a way of protecting deliveries while you are away from home. Doorbell cameras also record based on motion, and you can set yours to notify you whenever motion is detected near your front door. A recent Global News article covered one incident where a homeowner used the voice feature of their doorbell camera to send a few would-be thieves running. This voice feature also means you can speak to a courier directly and give them instructions on where to leave your packages.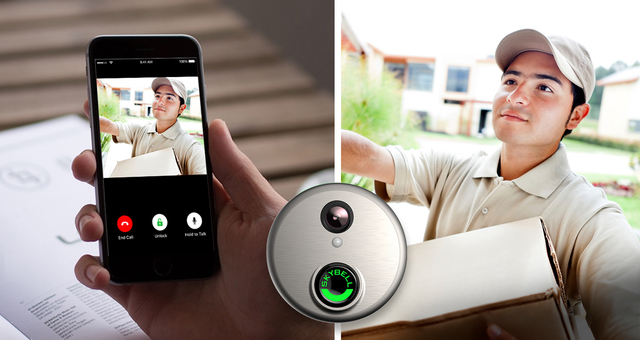 Having a video doorbell that is linked to a security system with other smart-home devices comes with some added benefits. While speaking to someone through the audio feature, you can remotely unlock your keyless entry door. As well, doorbell cameras record during alarm events, which can help identify intruders. Just having one can act as a deterrent to potential thieves as doorbell cameras are hard to miss at your front door, which is also the favourite point of entry for break-ins.
Requirements:
What's your wifi speed?
Doorbell cameras communicate wirelessly to your smartphone security app through your home wifi connection. For any doorbell camera to function properly you need a good wifi connection. We recommend a minimum of 2mb/s, per camera. You can run an internet speed test on your phone at the location you would like the camera installed. If you find your upload speed to be lacking, you can try moving your router closer, purchasing a wifi extender, or upgrading your package with your service provider.
Got power?
While video doorbell cameras communicate wirelessly for remote viewing, they require power wires. Most existing doorbells have two wires connected to it. To check yours, simply unscrew your doorbell and taking a look to see if there are two small wires connected to it. If you don't have wires then your doorbell is battery powered. If the wires are there, then you're all set.
The choice is yours.
When it comes to protecting your family and property, we encourage you to be proactive and to take as many options as possible into consideration. The use of video doorbells are on the rise for a reason, and we hope this information will aid in your decisions regarding home automation and security.
Written by Candice Mendoza