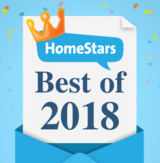 Liberty is proud to be the recipient of the 2018 HomeStars "Best Of" Award for Security & Home Automation services in Edmonton. This award celebrates the success of the companies who are the best in their industry, and recognizes the exemplar work and services they provide based on their own customers' feedback. The "Best Of" Award was created as a way for HomeStars to show the homeowner their reviews really matter and impact a company's success.
Pictured above receiving the award are Liberty Managing Partner, Nate Baldry (centre left) and Business Development Manager, Brad Prince (centre right), who attended this year's awards luncheon at the Royal Mayfair Golf Club.
"We strive to provide the best possible experience for our customers, and so it's an honour to be recognized with an award that's based on integrity, customer service, and consistency" – Nathan Baldry
About HomeStars
HomeStars is a free service helping homeowners find reputable renovators, repairmen and retailers through its database of 2 million companies and hundreds of thousands of reviews. Homeowners write reviews based on their home improvement experiences – both good and bad – helping build a collective knowledge base that is invaluable in helping homeowners make better hiring decisions. A trusted resource since 2006, HomeStars has grown to be the leading online community of homeowners and home improvement companies in Canada. To learn more, visit their website or check them out on Facebook or Twitter.
Liberty Smart Security
Liberty security systems use the latest technology to help home and business owners feel safe. Choose the home security solution that best fit your lifestyle by selecting features like window and door sensors, glass break detectors, motion sensors, and smoke detectors. Automation capabilities provide you the freedom and convenience to manage energy usage, doors, locks, appliances and more, all from your smartphone, tablet or computer.
Written by Mimi Ngo