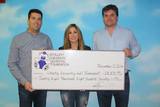 Liberty is proud to announce that we are the recipient of the 2017 HomeStars Giving Back Award. This award was created in 2016 by HomeStars to recognize companies across Canada that go above and beyond to give back to their communities.
This award recognizes Liberty's commitment to supporting the Peterson Foundation for Parkinson's and the Neurosurgery Kids Fund at the Stollery Children's Hospital with our annual Liberty Classic golf tournament, which has raised almost $250,000 to date. Liberty also supports local charities such as Ronald McDonald House and Christmas Care Packs Campaign.
Russell Keddie, Managing Partner of Liberty says, "We believe that all companies should be responsible citizens and give back to the communities as much as they can."
About HomeStars
HomeStars is a free service helping homeowners find reputable renovators, repairmen and retailers through its database of 2 million companies and hundreds of thousands of reviews. Homeowners write reviews based on their home improvement experiences – both good and bad – helping build a collective knowledge base that is invaluable in helping homeowners make better hiring decisions. A trusted resource since 2006, HomeStars has grown to be the leading online community of homeowners and home improvement companies in Canada. To learn more, visit their website or check them out on Facebook or Twitter.
Written by posted this onMarch 27, 2017by and is categorized underAwards & RecognitionandNews