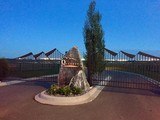 We are proud to announce that the 6th annual Liberty Classic will be moving to The Quarry Golf Club in Edmonton. The tournament has raised almost $200,000 to date and all proceeds from this year's event will go to the Peterson Foundation for Parkinson's and the Neurosurgery Kids Fund at the Stollery Children's Hospital.
Liberty Managing Partner, Russell Keddie commented on the reasons for the move,
After three successful years at Northern Bear, we made the decision to hold the 2016 tournament at the Quarry Golf Club. With 27 holes, and a larger banquet facility, it will allow us to grow the tournament and ultimately to raise more money for our Charities.
Opened in 2012, the Les Furber designed course is situated along the North Saskatchewan river on the site of a former sand and gravel quarry. With 45 acres of lakes, a large practice area, and banquet facilities for up to 300, the Quarry is Edmonton's premier 27 hole golf destination.
We look forward to working with the Quarry's Director of Golf, Taylor Scinski and his team to make this year's tournament a success. To register, please contact Ola Cislik at (780) 988-7233 Ext.144, or visit www.libertyclassic.ca.
Written by posted this onJuly 20, 2016by and is categorized underFeatured,General, andNews