Hopefully you've heard of the Liberty Classic by now. Held annually at The Quarry Golf Club in August, the Liberty Classic Charity Golf Tournament has raised $353,841 for our charities to date. Last year, $61,118 was donated to the Peterson Foundation for Parkinson's and the Neurosurgery Kids Fund at the Stollery Children's Hospital.
If you've read our previous blog, we announced this year as our first supporting the Edmonton Down Syndrome Society. Liberty is also proud to be supporting the Neurosurgery Kids Fund once again in 2019.
Each year, over 375 children will have brain or spinal operations on a wide spectrum of neurological issues including brain tumors, stroke, and spinal cancer. The Neurosurgery Kids Fund (NKF) is made up of various professionals who are dedicated to serving babies, children, and adolescents with neurosurgical conditions who have undergone brain or spinal cord surgery at the Stollery Children's Hospital in Edmonton. The NKF's goals are to enhance the lives of children, support their families, and provide world-class neurosurgical care. This is done through offering information and resources to families affected by pediatric neurosurgery.
Along with these support programs, the NKF also holds Camp Everest every year for children affected by neurosurgical conditions. Nurses, therapists, physicians, and surgeons make up the majority of the volunteer staff, ensuring campers and their parents can have a stress-free weekend.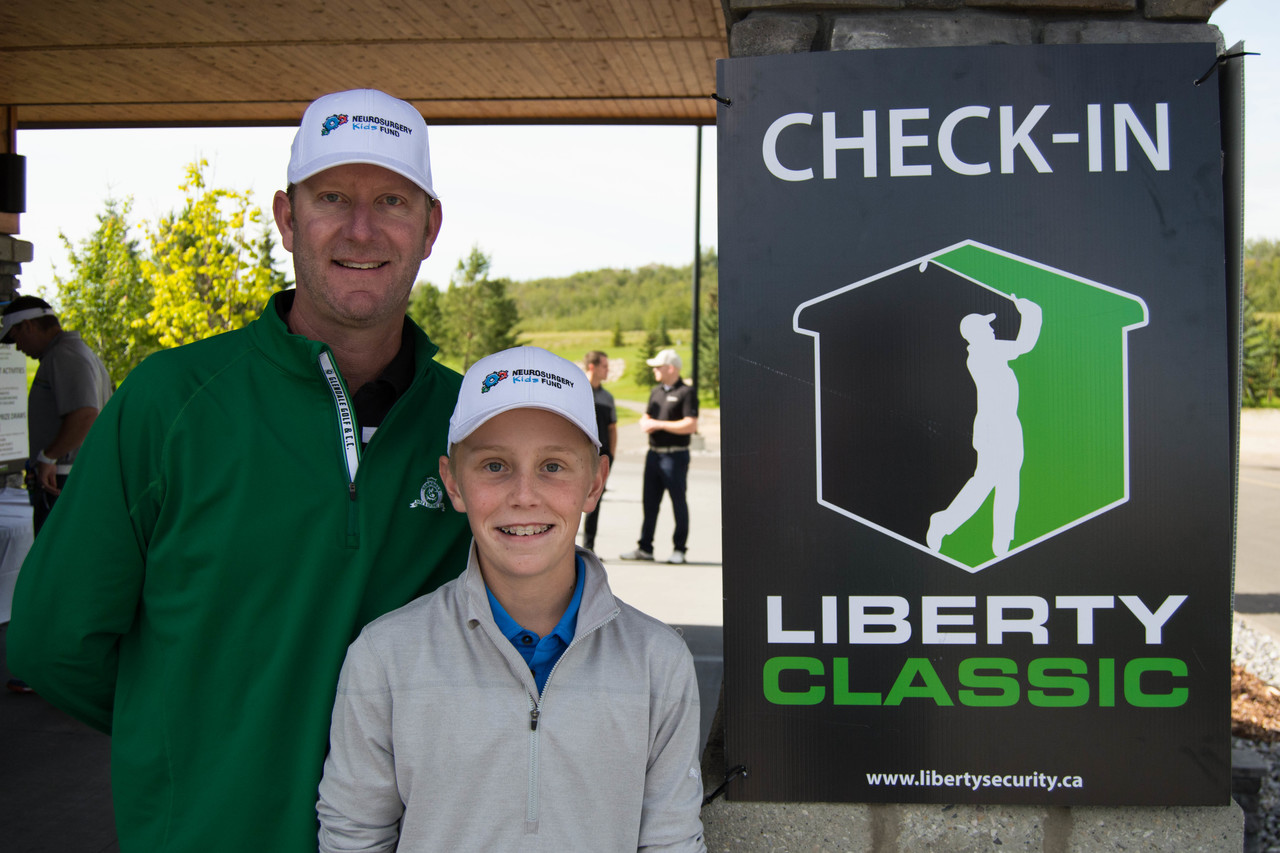 Jeff Couch and his son, Ethan (former
NKF

patient)

Liberty is proud to be supporting this wonderful organization again in 2019 and asks for your assistance in raising money and awareness for our charities. You can help by sponsoring a hole, registering to golf in the tournament itself, or donating prizes. We hope to surpass our goal of $60,000 this year, and know we can do so with your support. To see a list of our current sponsors, and for further information regarding this year's tournament (including registration) please visit www.libertyclassic.ca.
"My daughter has a very severe case of Hydrocephalus and she has had 4 brain surgeries at the Stollery children's hospital. I'd like to thank you guys again for supporting the

NKF

. You truly are helping change the lives of many children in the hospital and it means so much to me that you guys support

NKF

. The

NKF

has changed our lives. Not just my daughter Anneliese's but my life. They have helped my mind body and soul during this journey which wouldn't be possible without support like the golf tournament. From the bottom of my heart, thank you."
-Kristen H.

Written by Candice Mendoza