On Monday, August 26th, we will be hosting the Liberty Classic Golf Tournament at The Quarry Golf Club. To date, the Liberty Classic has raised $353,841, with $61,118 having been donated in 2018 to the Peterson Foundation for Parkinson's and the Neurosurgery Kids Fund at the Stollery Children's Hospital.
Meet Our New Charity: The Edmonton Down Syndrome Society
If you've read our last blog about Gary Woodland (2019 US Open Winner), and Amy Bockerstette, you may already be aware of our new charity for the 2019 Liberty Classic. This year, Liberty will be supporting the Neurosurgery Kids Fund along with the Edmonton Down Syndrome Society. It has been an honour to work with the Peterson Foundation for the past several years – they do amazing work and have helped so many people. We wish Brent and his family all the best.
The Edmonton Down Syndrome Society (EDSS) is dedicated to improving the lives of individuals with Down syndrome (DS). They provide support for people with DS and their families through programs, information, resources, and peer-to-peer connections.
Through offering opportunities for people with DS to strive for their individual potential, the EDSS creates awareness about the unique abilities that lie in each person and empowers our communities with knowledge, compassion, and inspiration. They serve people in Northern Alberta, including: Red Deer, Edmonton, Grande Prairie, Bonnyville, and Fort McMurray – and even all the way up to the North West Territories.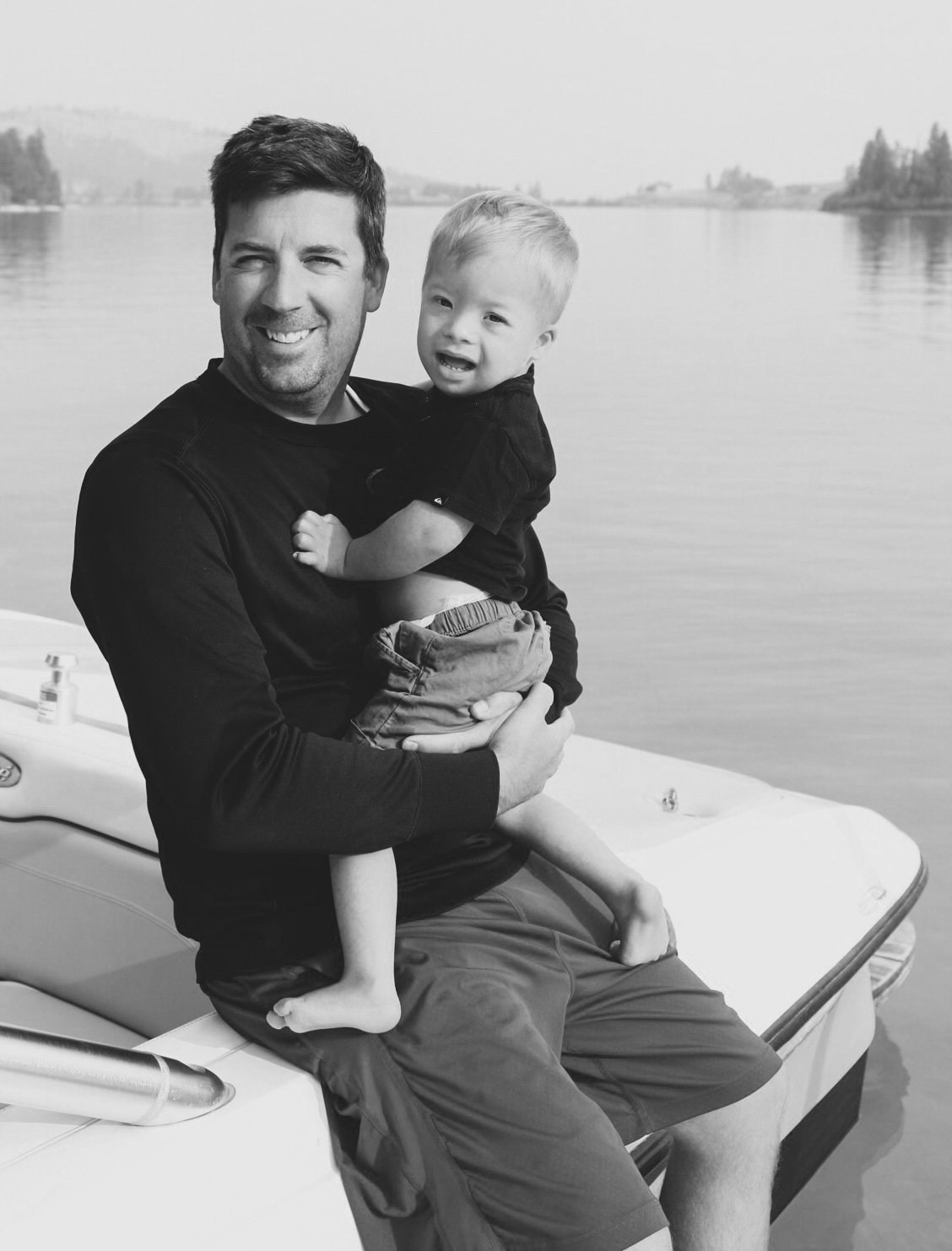 Nathan Baldry, Liberty's founder, with his son Arthur
We have chosen to support the EDSS in 2019 because they are a local charity that means a lot to us here at Liberty. Nathan Baldry, Liberty's founder, has a 3 year old son named Arthur who was born with Down Syndrome. Arthur is loving, fun, kind and determined. He is an energetic kid who loves to dance along to movies like Sing and he loves to play sports. His current favourite things to do are reading to himself for hours and throwing and kicking balls with his family.
Nathan and Arthur are members of the Edmonton Down Syndrome Society, with whom Arthur has taken a speech course so far. Arthur does not talk yet, as children with DS commonly learn to speak at a later age. However, he is currently learning to sign and knows approximately 20 words. The EDSS usually gets more involved with families in later developmental years, providing speech therapy courses, arts courses, and musical theatre, to name a few of the programs they offer.
Liberty is proud to support this organization in 2019 onward, and asks for your assistance in raising money and awareness for our charities. You can help by sponsoring a hole, registering to golf in the tournament itself, or donating prizes. We hope to surpass our goal of $60,000 this year, and know we can do so with your support. To see a list of our current sponsors, and for further information regarding this year's tournament (including registration) please visit www.libertyclassic.ca.

Written by Candice Mendoza