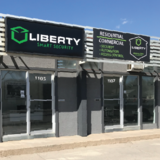 Here at Liberty Security, we're excited to announce that we're expanding into two new cities: Saskatoon, SK, and Medicine Hat, AB! If you're new to Liberty Security, here's a bit of background: we're a proudly Canadian company focused on providing Smart Home automation and Business security systems to our clients.
Since our inception in 2005 we have installed over 55,000 residential and commercial security systems in nearly every province and territory in the country. By expanding our team into two new cities, we can provide even better service as your local security provider.
Liberty Security in Saskatoon, Saskatchewan
In the past we have ran most of Liberty Security's Saskatchewan operations out of our Edmonton location, providing exceptional service without a brick and mortar. Now that we have opened our local office in Saskatoon we couldn't be more excited to build on our service!
We know that there is a huge need in Saskatchewan for residential and commercial security and automation, so we're working hard to become industry leaders here, just like we've become in Alberta.
Our Area Manager of Liberty Security Saskatoon, Maarit Friman, has weighed in on what has made her most excited for the change:
"I've been in the industry for almost 10 years now and have personally set up over 2000 customers all over Canada with security products. I have always loved working with people in Saskatchewan and I can comfortably say that over the years I've learned exactly what customers here are looking for from the company they trust to protect their home, lake house or business. Reliable and up-to-date technology, local and fast service and a personable sales and installation crew."
We can't wait to see what Maarit and the team accomplishes in Saskatoon! Pay them a visit at 1105 8th Street E.
Liberty Security in Medicine Hat, Alberta
At Liberty Security we're devoted to providing top quality security service across Western Canada, and we're now growing our team to include local service in Medicine Hat. If there isn't a Liberty Security location nearby you can bet that there's a local sales representative within our network that's always happy to help.
We're thrilled to welcome Sterling Wallace to our team as the new local sales representative for Liberty Security Medicine Hat! Sterling will be your local go-to for all things security, in both residential and commercial applications. Be sure to give him a call at (403) 979-0890!
Offering local security solutions where you are
We want to make it as easy as possible for you to keep your home or business safe. Our team is hard at work building connections across Canada to further enhance our local security solutions. As we grow our team and open new office spaces one thing will remain constant: we're always just a phone call away.
What's next?
We're always expanding so that we can better serve our customers. Be sure to check in with our blog to stay in the loop as we continue to grow Liberty Security.
Written by posted this onMay 01, 2018by and is categorized underFeatured,General, andNews