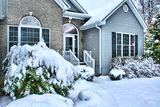 Every winter Canadians head south to escape the cold, leaving behind their homes for neighbours, friends or family to check in on. If you want to enjoy frozen drinks, instead of worrying about frozen pipes, then Liberty's Smart Home and security solutions are perfect for you.
The first step to keeping your home protected is to install a 24/7 monitored Liberty home security system. With equipment such as Smoke Detectors, Carbon Monoxide Sensors, Freeze Sensors and Flood Sensors, you can protect your home from frozen pipes, flooding, and fire while you're away.
With the Interactive Package, the Liberty Live app allows you to control your home from any mobile device, whether you're on a beach in Mexico or a golf course in Palm Springs. See who's at your front door with a video doorbell camera or adjust your smart thermostat to ensure your house is properly heated when the dreaded 'Siberian High' moves in and temperatures plummet. With the appliance module, you can control small appliances, including lamps, which can help in giving the illusion your home is occupied.
Here are some other helpful tips to help winterize your home while you're away:
Ask a trusted neighbour, friend or family member to periodically clean up the exterior of your home by removing snow and removing flyers and mail from your front doorstep
Get your furnace inspected by a professional
Test your smoke detector and replace the batteries
Unplug small appliances
Forward calls from your house phone to your cell phone
Clean out your fridge and take out your garbage
For more information on our Liberty Smart Home Security packages, visit www.libertysecurity.ca or call us at 1-866-926-7233.
Written by Mimi Ngo