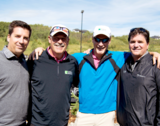 Liberty is honoured to continue its partnership with the Peterson Foundation for Parkinson's (PFP) for our 2017 Liberty Classic charity golf tournament. Founded by Nashville Predators advisor Brent Peterson, the PFP aims to educate and build awareness for Parkinson's. This will be our 7th year raising money in support of Brent and his foundation.
Funds raised through the PFP go towards research and support for those with Parkinson's disease and their caregivers. Substantial contributions are made to the Vanderbilt University Hospital for Parkinson's and the Michael J. Fox Foundation to further research in hopes of finding a cure for this lifelong battle. The foundation also supports initiatives like an exercise program dedicated to helping those affected by Parkinson's improve their strength, balance, flexibility and mobility. Additional support for family caregivers is provided through the Respite Voucher Program which gives them the opportunity to temporarily take time for themselves, since caring for a loved one with Parkinson's can be a 24 hour a day, 7 days a week job.
Brent Peterson was drafted 12th overall by the Detroit Red Wings in 1978. After 11 seasons playing in the NHL, he finished his career with 213 points. Following his Memorial Cup Championship as Head Coach of the Portland Winterhawks of the WHL, Peterson joined the Nashville Predators as an Assistant Coach. In 2004, he was diagnosed with Parkinson's Disease and founded the Peterson Foundation for Parkinson's in 2009. He stepped down as Assistant Coach due to complications and advancements with the disease and underwent the radical Deep Brain Stimulation procedure. In 2013, Brent released "My Toughest Faceoff," his autobiography detailing his playing career and his battle with Parkinson's. He can now be found serving as an advisor to the Nashville Predators.
The 2017 Liberty Classic will take place on Monday, August 28th at the Quarry Golf Club. Click here to register today!
Written by Mimi Ngo