It's safe to say that October 31st is the one day of the year your doorbell gets the most action and having a smart doorbell makes this day a little easier. Integrating your home with a video doorbell gives you more control over what happens at your front door. We've got you covered with two doorbell camera solutions: the Skybell Doorbell Camera and the Ring Video Doorbell.
Alarm.com Wi-Fi Doorbell Camera, Skybell HD Edition
Fully integrated into the user friendly Alarm.com mobile app, this doorbell camera lets you view and communicate with whoever is at your front door and unlock the smart door lock from your phone. The doorbell camera is triggered by motion, the doorbell itself and smart devices in your home and can be connected to trigger other automated devices such as your porch light.
Throughout Halloween night, the Skybell Doorbell Camera will let you safely see who's at the door before you hand out candy. This comes in handy especially after you've turned off your porch light, and aren't expecting any more trick-or-treaters. The motion sensor on the doorbell will also notify you of any suspicious activity near your front door.
Ring Video Doorbell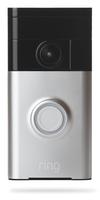 With the Ring Video Doorbell installed, the Ring app will allow you to control your doorbell and motion sensor alerts, including the frequency and sensitivity, in addition to which regions of the exterior of your house you'd like to be monitored, and all from your phone.
The night vision capability of this doorbell camera will let you see who's at your door on Halloween night, whether it's a trick-or-treater or a trouble maker. You can have a quiet night in, with no disturbances from your motion or doorbell sensors and all you have to do is turn off your alerts on your mobile app. At the same time, you can keep an eye on any activity that may happen around the rest of your property with the motion sensor zone functionality.
For more information regarding Video Doorbells, please call us at 1.866.926.7233 or email [email protected].
Read our Halloween Home Security Tips blog post for more ways you can protect your family and property on Halloween.
Written by Mimi Ngo