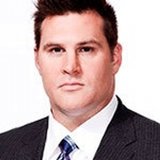 We would like to welcome Louie DeBrusk to this year's Liberty Classic on Monday, August 24th at Northern Bear. This will be Louie's first time attending the tournament. We look forward to having him there as we raise money for both the Peterson Foundation For Parkinson's and the Neurosurgery Kids Fund at the Stollery Children's Hospital.
Louis Dennis DeBrusk (born March 19, 1971 in Cambridge, Ontario) is a Canadian former professional ice hockey player. DeBrusk played 401 National Hockey League (NHL) games with the Edmonton Oilers, Tampa Bay Lightning, Phoenix Coyotes and Chicago Blackhawks after being drafted from the London Knights. DeBrusk was raised in Port Elgin, Ontario and played junior hockey with the Port Elgin Bears and Stratford Cullitons before joining the Knights.
He currently appears as a hockey analyst with Rogers Sportsnet. As Brent Lawrence said, "he is a classy guy with a big heart for local events" and we are thrilled to have him lend his support at ours.
Written by Alex Watz