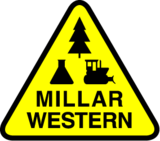 After its price increase to over $2.50 a pound, copper theft has been on the rise in Alberta. Thieves steal copper from homes and businesses and sell it as scrap for recycling, causing property damage from cables being ripped out of buildings, generators, and the ground.
This past July, lettering from the Edmonton archives building was stolen. For some businesses, damage from copper theft can cost tens of thousands, or even upwards of one-hundred-thousand dollars to repair.
Problem:
Millar Western was having copper stolen from conduit and air conditioners in their industrial yard in West Edmonton. While thieves were making off with small amounts of copper, they were regularly inflicting thousands of dollars worth of damage.
Solution:
Liberty designed an outdoor security system that would discourage copper theft without hampering normal business operations. Liberty installed:
Outdoor motion driven cameras
Outdoor strobes and sirens
A schedule was created for the outdoor security devices to arm outside of business hours.
Often, strobes and sirens were enough to send thieves packing. However, for more determined burglars, a protocol was set up for Liberty's monitoring station to examine stills captured by the image sensors and dispatch guard services accordingly.

Site image of Millar Western (left). Still captured by Millar Western's image sensor (right).
"In the first month after installation we had three after hour alarms which scared off our 'visitors' and had no damage to our property. In the subsequent 2 months we have had zero alarms and no vandalism."
-Ken, VP Purchasing, Millar Western
If this is a problem your business is facing and you would like to learn more about how Liberty can protect your property, please contact us at 1-866-926-7233 or at [email protected]
Written by Candice Mendoza