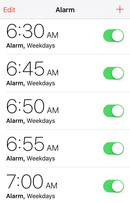 When you need to check the weather, you open the Weather app on your phone. When you need to wake up at 7:00 AM the next day, you set 5 alarms on your phone at 6:30, 6:45, 6:50, 6:55 and 7:00. When you want to know the song that's playing on the radio, you Shazam that bad boy. Isn't it scary how much of our everyday lives depend on these tiny pixels on our smartphones? It's also incredible how much more efficient we've become because of them. I'm going to share with you 6 useful iPhone apps you've probably never heard of that will change your life for the better.
1. TV Show Tracker 3: As someone who follows and watches at least 15 different TV shows throughout the year, I need an app that tells me when the next episode airs and what episodes I've missed. This app organizes my tv shows for me, and all I have to do is check off which episodes I've watched, as I watch them. All this time I've saved means more time to catch up on Brooklyn Nine-Nine.
2. Bandsintown: After analyzing the artists in your music app, Bandsintown will show you all the musicians, and related artists, that will be performing in your city. With the ability to get notifications when a tour is announced and to RSVP to shows, it's great for keeping up with your favourite artists and their upcoming shows. (Available on Android)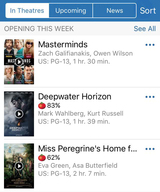 3. Flixster: With lists of upcoming movies and DVD releases, Rotten Tomatoes reviews and the ability to rate the movies you watch, Flixster is any movie addict's dream. If you give the app your location, it'll show you movie times for every movie theatre around your city. Perfect to help you figure out what movie is worth your time, and when and where to see it. (Available on Android)
4. Little Memory: Like a diary, Little Memory lets you keep track of what you do each day and the memories you'd want to remember months or even years from now. It's quick and easy to use and a convenient app for the sentimental soul who coincidently has a terrible memory.
5. PayByPhone Parking: Living in a city that has winter 8 months out of the year, PayByPhone Parking is an absolute must. It lets you pay for parking and register your license plate right from your phone. Now you don't have to look under the seats of your car for change, wait for a ticket at the meter and make multiple trips to and from your car. What more could you want?! (Available on Android)
6. 30/30: This task and time management app will help you with your constant and tiring battle with procrastination. All you have to do is set increments of time you'll need for each activity (including breaks!) and it will notify you when you need to switch tasks. This app is perfect for the students who would rather clean their rooms from top to bottom than cram for their final the next day.
With all of these apps in your pocket, you'll save so much time you won't know what to do with yourself. Now you can go take that well-deserved nap you've been waiting so long for.
Written by Mimi Ngo