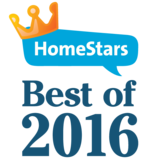 Liberty is honoured to be the recipient of HomeStars' "Best of 2016" Award for superior Security & Home Automation services in and around Calgary, Alberta. This coveted award goes to one company in each category based on thousands of reviews made by homeowners on the homestars.com website.
These awards began in 2008 to distinguish the very best home improvement companies from the rest. "To win one of these awards is really a testament to a contractor's quality of work," says Nancy Peterson, Founder and CEO of HomeStars. "We like to think of them as our own People's Choice Awards since they are based on the reviews written by homeowners."
Ashley Kelly, Homestars Customer Success Coach, adds: "We select companies who have consistent fresh content which includes positive reviews, responses to reviews and updated profiles who demonstrate their great work and use integrity in maximizing their HomeStars profiles. We want to show case the best contractors and businesses of each year."
To our valued customers: Thank you for your continued support and for spreading the word about Liberty! Our success and high reputation ranking is primarily because of you. If you took the time in 2015 to write a review on homestars.com about the service we provided you – a big thank you! Because your review helped us win this award. And if you did not write a review yet, it would be greatly appreciated since it helps build our company's online reputation.
About HomeStars
HomeStars is a free service helping homeowners find reputable renovators, repairmen and retailers through its database of 2 million companies and hundreds of thousands of reviews. Homeowners write reviews based on their home improvement experiences – both good and bad – helping build a collective knowledge base that is invaluable in helping homeowners make better hiring decisions. A trusted resource since 2006, HomeStars has grown to be the leading online community of homeowners and home improvement companies in Canada. To learn more, visit their website or check them out on Facebook or Twitter.
Written by Alex Watz